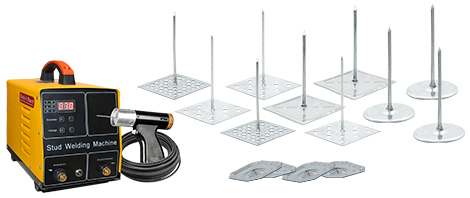 Delta Self Adhesive Pins & Weld Pins
Delta Self-adhesive pins are designed to fix insulating materials to smooth surfaces such as air ducts, attenuators, chambers, and enclosures. It is also known in various name such as Stuck-up pins/ Insulation Fasteners/ Self-adhesive hangers. Their use allows proper and speedy quality fixture without the risk of corrosion.
Delta Duct Insulation Nail Welder (Weld Pins)
The Delta Duct Pin welder system integrated with Single Face Voltage and the system can work at any construction site with minimum requirement of electricity.