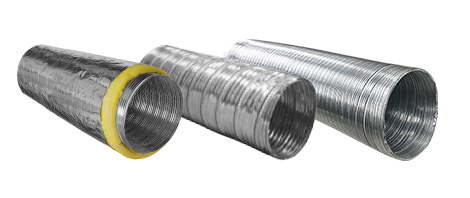 Delta-flex Semi Rigid Flexible Duct comply with UL 181 Class 0 standard having surface burning characteristic zero (i.e. flame spread and smoke developed). Delta-flex is manufactured in accordance with (NFPA 90A & 90B standard).
Fire resistant, non-combustible, light weight, very strong with high degree of flexibility, which is widely used in dryer, bathroom or kitchen ventilation for commercial, industrial and residential applications.
Available in Insulated & Uninsulated types.
Available ID: 3" to 14"
Standard Length: 10 feet
Product Catalog: