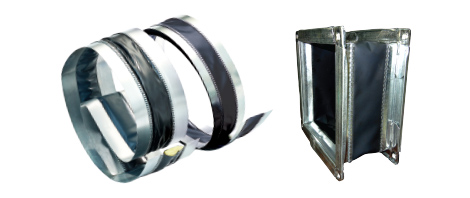 Delta-flex Flexible Duct Connectors
Delta-flex Duct Connectors are very strong, fully flexible duct connectors and are widely used in air conditioning systems for commercial, industrial and residential applications. Ready carton dispensing completes the fabrication quicker more efficiently, and more economically than conventional method.
Applications:
Isolation of sound and vibration from the source, double lock seam joined duct flexible connector fabric is used which is fixed to galvanized steel sheet metal is anchored with the equipment and the other end is anchored with the ductwork.
Delta-flex offers flexibility in fabric and metal width. Delta-flex Flexible Duct Connector is comply with NFPA 701-2019 (Formerly UL 214).
All Delta-flex Flexible Duct Connector are designed to meet the stringent criteria of NFPA 701-2019 airtight and waterproof.
Product Flyer: